Hunter EDGE

Enterprise Version
Enterprise
A unique online recruitment and management system suitable for large organizations
A lot of recruiting operations?
Looking to streamline, share and facilitate your recruitment stages?
Hunter EDGE Enterprise– The system that will make it easier for you to find, search, manage, and track recruitment in accordance with large organizations, with an emphasis on collaborating with entities inside or outside your organization.
Hunter EDGE recruitment system enables ongoing management of candidate-employee lifespan. From the publication of the position through receiving a CV/candidate, staffing the position, managing the training and employees!
Adapting to many recruitments
Manpower savings, time and costs
Adapting to large organizations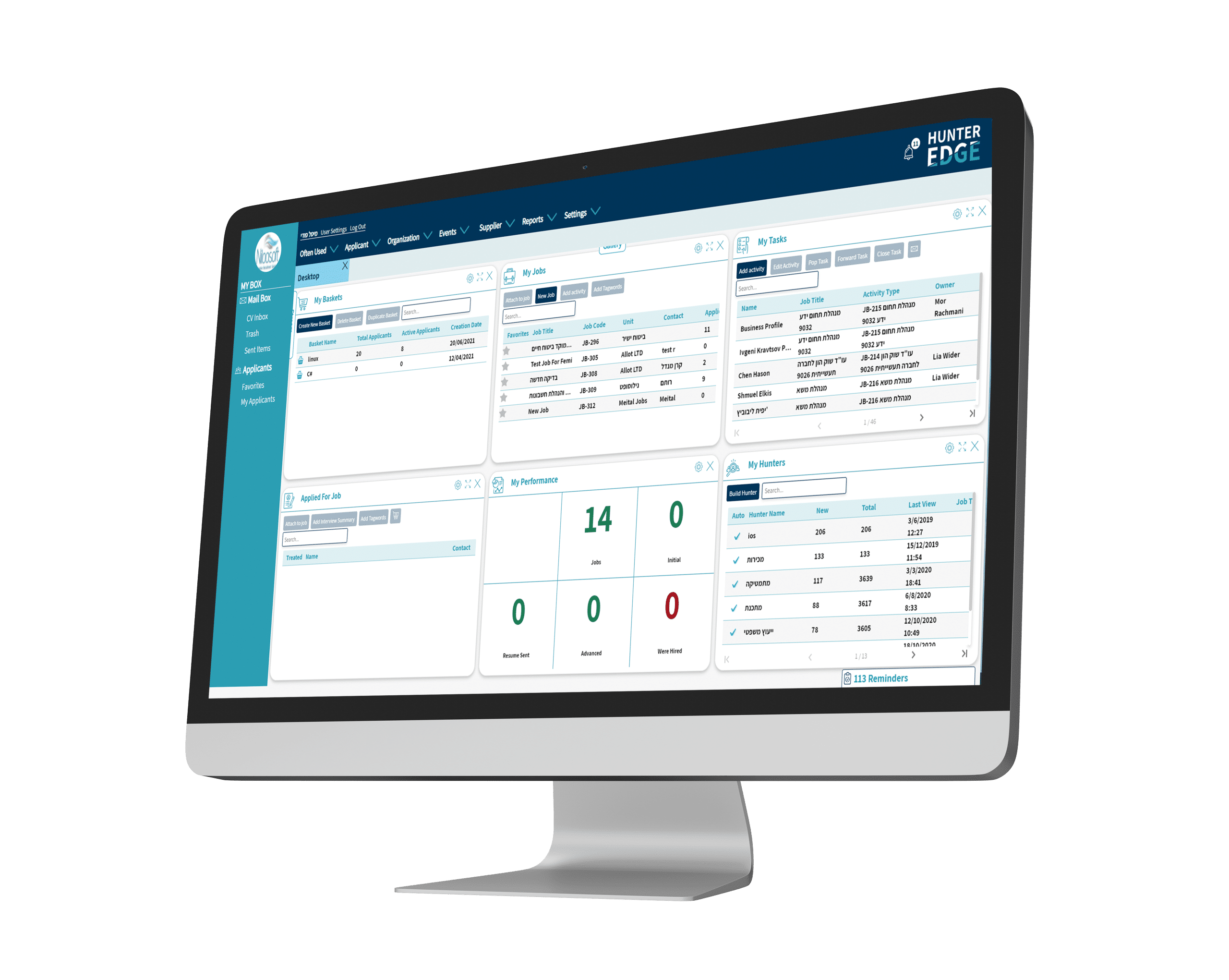 Enterprise
The Enterpris version is a unique and perfect solution for large organizations!
Hunter EDGE is the most advanced recruitment system available today!
It is designed to streamline recruitment procedures customized to the needs of your organization.
The system works on cloud technology and allows recruitment coordinators to connect to it from anywhere, anytime.
Enterprise is a unique and perfect solution for large organizations, which recruit many while working directly with placement companies and managers within the organization, in full coordination with everyone.
The system supports an employee module for HR management, BI reports (analytics and visual reports of all your recruitment metrics).
In addition, with advanced features such as a mobile app for recruiting managers, it was possible to recruit and collaborate quickly with the managerial echelon of the organization, a friend interface brings a friend, career sites, landing pages and many more plugins!
if you want to create a large pool of candidates on which you can search, locate, reach, contact and recruit candidates in a flash before all the competitors, Hunter EDGE Enterprise Recruitment Version is the most suitable system for you.
All the information about candidates you've ever had or will have is stored and accessible accessible through the system's candidate hunter."
Enterprise
Let us find the candidates for you!
We have developed for you an amazing candidate hunter, TAS* that enables the search and detection of candidates in accordance with the job requirements and relevant candidates.
The resume sent to you is automatically decrypted, and then the hunter presents you with the most suitable candidates.
The hunter is used in artificial intelligence (AI) and is:
Analyzes the C.I.A. textually and allows for an accurate search!
Decrypts your existing databases on applicants and automatically makes adjustments to jobs.
Don't you have your own reservoirs? No problem! It can analyze databases on social networks and the Internet such as Stuck, LinkdIn, Over Flow, and import the information directly into the system.
The hunter knows how to search for you automatically when you are not working with him, thus saving significantly valuable work time.
*TAS -Talent Acquisition System
* AI – Artificial intelligenc
Enterprise
Work professionally with the pool of candidates
In any organization it is important to have an available pool of candidates with whom you can work!
Hunter EDGE recruitment system that monitors and recruits employees, creates order, regular updates, a positive recruitment experience for candidates, strong candidate relationships, good, fast, easy and accurate control over recruitment procedures, on the part of the recruitment department!
The system saves for you all the candidates you have ever had in your systems and creates a pool of candidates that you can work with with the most comfort!
Using the database you can:
Activate automatic candidate hunting and find the most suitable candidates quickly.
View all the appropriate candidates with the data you're looking for highlighted.
Contact the candidates directly at the touch of a button.
See where the candidates are in the recruitment process and read all their interview summaries.
Associate job applicants and transfer them to the recruiters in the organization at the touch of a button!
In doing so, you can revive your relationship with the candidates and at the same time, conduct proper monitoring of the recruitment process.
Enterprise
Interested in communicating with your candidates?
Hunter EDGE is also a candidate relation management system.
Hereby, it allows you to manage the entire sequence of communications with the candidate throughout and after the recruitment process!
Ways to contact candidates via SMS, email, and WhatsApp.
Scheduled communications can be coordinated with a fully automated bot.
Sending negative letters to the various candidates.
Subpoena for an interview through the candidate's system and the recruitment coordinator with an interface to your computer log.
An option to send mailings in circulation to the various candidates.
Enterprise
Manage communications with candidate automatically
Hunter BOT helps you communicate quickly with the candidate and knows how to do the following:
Automatically respond to any application of a job candidate.
Ask initial screening questions based on the type of job the candidate applied for and make a decision on whether to continue the process.
Complete necessary personal information.
Arrange an interview/exam session.
Update the candidate on his progress on the recruitment process. To survey the recruitment process.
Are you interested in reading more about me? click here
Enterprise
Job Advertising and Sourcing
Creating landing pages for jobs and posting them on social networks, including LinkedIn, Facebook, WhatsApp and more.
Posting jobs to various websites at the touch of a button, including AllJobs, Talinkme and more.
Convenient and special work interface with placement companies.
A smart sourcing platform on social networks, including LinkedIn, Stack Over Flow, GitHub, Google and more.
In fact, you can regularly track your recruitment sources, examine them, and through the system see which recruitment source is best for you and produces the most candidates/leads.
Enterprise
Keep track with the right metrics
The recruitment system monitors the recruitment process, from the beginning of the recruitment process to the end.
Niloosoft Hunter EDGE creates smart and varied reports for you with an advanced report generator, to help you effectively track all recruitment metrics.
All reports can be exported to Excel, XML, and can be printed at the touch of a button.
Enterprise
Make good business decisions
Niloosoft has developed Hunter Business Intelligence, which visualizes (visualizing) your recruitment throughpopitation metrics:
Farms directly into the Hunter EDGE system.
Analyzes the data analytically, diversely and customized to the user.
Shows the results of your recruitment metric analysis in visual reports.
Works in real time and displays the latest data!
This allows you to co-track the various recruitment metrics, examine and make quick and prudent decisions in managing your recruitment.
Without the need to delve into tables full of data and numbers that are difficult to understand!
Want to read more on Hunter BI? click here
Enterprise
Enlist everyone in the recruitment process
Save unnecessary delay and create time for your recruiting managers! 
The Niloosoft Quick Hire app helps managers manage their share of the mobile phone recruitment process anywhere, anytime! This is how you run the recruitment process and give it an excellent response!
In Quick Hire managers can:
View the specific jobs defined for them.
View the list of pending candidates who have passed the recruitment department screening.
Reject or approve the candidates and write an opinion.
Transfer their attention directly and automatically to you, to recruitment and human resources! (under the applicant's card).
Want to read more on Quick Hire? click here
Enterprise
Home for your online recruitment
Niloosoft has developed Hunter Career, a career and jobs website that is an effective solution for bringing candidates quickly!
The site:
Presents the careers and jobs you offer and allows you to apply for the applicant.
Designed in a marketing way and branding the employer.
Directly into the Hunter EDGE recruitment system (raising/editing jobs at the touch of a button).
Hunter Career is the showcase for your business! For this reason, there is an emphasis on marketing and branding the employer. Therefore, the site will arouse interest from the users and make them act in favor of applying to you.
To read more about Hunter Career Click here
Enterprise
Use your employees as recruitment ambassadors
With extensive experience with various organizations, Niloosoft has developed the Hunter Referral page for you, which is a "Friend Brings a Friend" interface!
Thanks to "Friend Brings a Friend" you allow employees to recruit company members for you easily and in a good atmosphere!"
The Niloosoft Hunter Referral page is:
Designed and branded according to your requirements.
Marketing and urges your employees to enter the details of their fellow candidates.
Automatically track and update the recruitment process – the update is sent to both the recruited employee and the applicant!
Directly into the Niloosoft Hunter EDGE recruitment system (raising/editing jobs at the touch of a button)
Want to read more on Hunter Referral? click here!
Enterprise
Get leads quickly
The campaign management system enables the creation of job landing pages to achieve leads in a flash, without submitting a resume (optional)!
Hunter Campaigns Manager landing pages allow:
One-click publication of the landing page.
Accessibility to candidates with one click.
Upload jobs and work on the page from the Hunter EDGE recruitment system at the touch of a button.
Monitoring the source of the applicant's arrival.
To read more about Hunter landing pages Click here
Enterprise
Promote recruitment on Facebook
Niloosoft has developed Hunter FaceSite, a designed job site that will increase your leads!
Hunter FaceSite is characterized by the following:
Built into your company's Facebook business page, attracting many candidates.
Exposes all your open positions for the candidates and of course has a button for applying!
Maintains the job search option by occupation or by search words.
has a designated area to promote your hot jobs.
Enterprise
Your comfort is important to us!
All work with our related products such as landing pages, automated tying bot, career and job sites, "Friend brings friend" page and other promotional products are created along with a thought in advance of the best user experience.
The completing products are:
Completely responsive (tailored to mobile and any device).
Brands the employer and is designed according to your requirements.
Take users' needs into account, thereby contributing to the candidate's experience.
Allow you to apply at the touch of a button. have a direct interface with the Hunter EDGE system.
What have you gained here? All data from the completing products is immediately transferred to the system and its repository! You can see them, work with them and present them in the advanced report generator! In addition, you can edit/post jobs to your website/page at the touch of a button!
Enterprise
Working with placement companies?
We allow you to advertise jobs to placement companies and personnel working with the system.
Placement companies that do not work so far with Niloosoft, receive a system free of charge! So the interface works between you and the placement companies quickly and accurately and without the need for manual intervention, unnecessary correspondence and phone calls.
The placement companies transfer the candidates back to the recruitment system and receive immediate feedback on the candidate.
Did you already have the candidate? The system knows how to detect it and will mention it!
*The system automatically detects duplicates and liability time according to the definitions of each contract with a placement company
Enterprise
Interested in preserving human capital?
As part of the efforts on employee retention and human capital that is so important to organizations, promoting employees is one of the best solutions!
In order to help the organization retain and promote existing employees, Nilsoft has developed Hunter Internal Mobility as an internal mobility portal, exposed only to employees of the organization, where jobs and promotion opportunities are published for employees only.
At Niloosoft Hunter Internal Mobility employee can:
See the advertised jobs for internal promotion.
Apply for a job and start the recruitment process!
To read more about Hunter Internal Mobility Click here
Enterprise
The perfect solution for presence tracking
Time Hunter was created just right for managing your presence signatures and projects!
With Time Hunter, you'll manage your employees' working times from anywhere, whether you're working in an office or even abroad!
The attendance system monitors attendance reports and is fully integrated into the payroll system.
In addition, there is the possibility of stamping a biometric presence – stamping using fingerprint recognition, facial characters, proximity card and personal code of your choice!
Presence reporting (start/finish) through website/app/biometric identification
Project Management and Task Execution System
Report hour statistics and export data in Excel, Web, Pdf, Txt, Print
Manage and close a month with a rich, advanced control panel
Full integration into the payroll system!
To read more about Time Hunter Click here
Enterprise
Global Connection
Hunter EDGE recruiting system knows how to work in several languages such as English, Hebrew, German, Polish, Spanish and more.
The system identifies your geographic location and adjusts the user according to the country: language, time, date and there is no need to change anything accordingly.
It is important to note that the "Hunter EDGE" recruitment system meets all the strictest information security standards.
In addition, the system also supports the European security standard GDPR and ISO27001, there is an option for a dual identification mechanism – 2FA*.
The information is stored in an encrypted and secure manner, which is carefully examined by various information security experts who unanimously approved it.
Niloosoft Hunter EDGE is the safest system to use!
Niloosoft boasts a wide clientele from many fields such as banking, finance, insurance, security and many others, which require information security at the strictest standard!
*Two Factor Authentication two-factor identification
Enterprise
External interfacing
The system is a WEB system – built from micro-services.
Niloosoft Hunter EDGE unveils an API that lets you connect all your business applications to your recruitment system. This capability enables smoother, faster and more efficient work among all factors related to the recruitment process.
It doesn't matter if you're a security company, a financial institution, a high-tech company, a manpower company, or any other company. Whether you're permanently connected to the Internet or using multiple networks to protect your data- Hunter EDGE knows how to connect to you!
Niloosoft has carried out hundreds of projects in this field and helped its customers achieve their goals through external interface.
Job Hunting
A technological candidate hunter with a semantic morphological dictionary. With precise cuts designed to help you find relevant candidates from your resume database.
Employee Module
An employee module designed to centralize all information about employees in the company. From the sorting process to the job to the termination stage.
Information Security
Information security at the strictest security standards in Israel. also compliance with the European GDPR.
Sourcing on social networks
Includes pulling the candidate's profilely automatic into the recruitment system.
Want to get a free demo with no obligation?
Enterprise
Hundreds of our customers benefit from the Enterprise version! How about you?
Because we're happy when you're happy!